On July 12, 2022, South County EDC celebrated the successful transition of our Board Chair from one fiscal year to the next. Throughout the last 12 months  Willie Armas with US Bank has served as the Chair of the Board for the SCEDC. We want to thank Willie for his tireless dedication to the organization, communities we serve, and the overall health and wellness of our business community. It is with great pleasure we also introduced Patricia Alvarez De Los Cobos with Energy Communications as Chair of the Board for the 2022-2023 fiscal year.
This past year Willie helped coordinate the Board of Directors efforts as the South County EDC, like many organizations, emerged on the other side of COVID-19. As the endemic phase has begun we have restarted in person programming holding a member get together, first two in person board meetings, and the inaugural Bination Forum. In addition to assisting with convening Willie has been part of the extensive outreach to our small businesses, supported as we secured new funding opportunities, and been a champion for putting actionable information in the hands of our businesses.
In the coming year Patricia will continue to be a tremendous force in coordinating Board efforts in outreach to our many partners, local companies, and of course the communities that make South County home. The 2022-2023 fiscal year is one in which we look to the new normal bringing enhancements learned through the pandemic and tried and true programming together to offer an elevated version of the SCEDC. With Patricia and the Board of Directors' support we look forward to offering best in class service, support, and opportunities for all. As a region we will celebrate tremendous enhancements to our region including development of our Bayfront, investment in critical infrastructure, and amazing growth in resources available to the South County.
Please join me in thanking Willie for an amazing year and welcoming Patricia as she embarks in supporting the SCEDC, our partners, communities, and all who have interest in the South County. This coming year will present many opportunities for our community of committed parties to help support growth and prosperity throughout the region.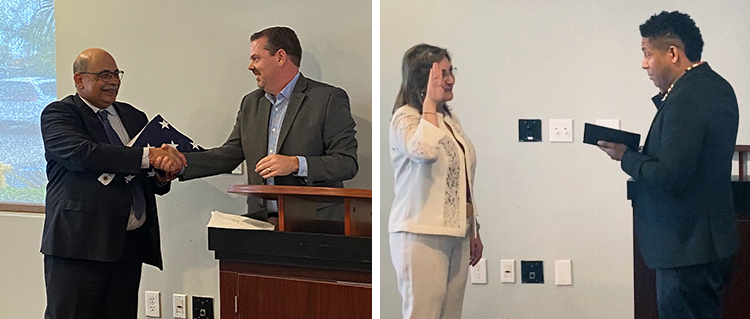 On the left President and CEO James O'Callaghan of SCEDC with
Willie Armas – Past Chair. On the right Patricia Alvarez De Los Cobos sworn in as New Chair.