The Imperial Beach Pier is being spruced up in a $2 million project that builds on improvements made to the pier last year in a joint venture by the Port of San Diego and the City of Imperial Beach.
Still in the planning stages are additional improvements, all of which are meant to upgrade the 1,491-foot the pier as a tourist attraction, said Dan Malcolm, chairman of the Board of Port Commissioners" It does make a lot of sense because it already is a big attraction," Malcolm said.
The Port owns the pier and contracts with Imperial Beach to provide services such as public safety.
"This is an investment we've been working on with the City of Imperial Beach for several years," Malcolm said.
First built in 1963, the pier was rebuilt at a cost of $2.8 million following a severe storm and reopened in March 1989. It's the most southwesterly pier in the U.S. and "is a widely recognized landmark," Malcom said.
"For us locals, it's part of our community, cultural identity, and economic vitality. With these enhancements and more to come, the Port and the city hope to highlight all there is to see, do and experience on and around the pier," Malcom said.
Designed by Civitas, the latest improvements include building an artistic shade canopy in a shark and water design over the pier extension at mid pier, and replacing the wood railing around the mid-pier extension and the old boat loading ramp near the Tin Fish Restaurant with stainless steel cable railing.
"It's a very modern look, it's an open look," Malcom said.
Plans also call for installing artistically designed placards along the pier, and placing a historical marker or plaque near the restaurant that tells the story of the pier with vintage photographs.
Distance markers also will be added every 250 feet along pier, and arrows will be placed on the railing at the end of the pier marking the distance and direction to legendary surf spots Mavericks and the Banzai Pipeline.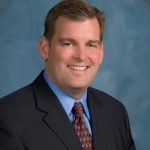 Dan Malcom
Chairman
Board of Port Commissioners
For more on this story please visit San Diego Business Journal Here