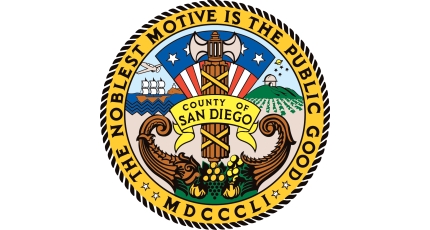 San Diego County Board of Supervisors Meeting
70 people viewed this event.
MEETING DATES AND LOCATION
The Board of Supervisors meetings are held at the County Administration Center, 1600 Pacific Highway, Room 310, San Diego, CA 92101. A regular meeting of the Board is held at 9 a.m. on Tuesday and 9 a.m. on Wednesday of each week. The Wednesday meeting deals with Planning and Land Use matters
Attend the Meeting In Person
You will be allowed to attend and make comments at Board of Supervisors meetings in person, however space inside the Board Chamber will be limited to ensure physical distancing. Additional overflow rooms will be available for the public to watch the meeting and wait to speak.
If you attend the Board meeting in person, you will be required to:
Wear a face covering at all times. Face coverings may only be removed when speaking at the podium.
Follow physical distancing rules.
Undergo a security screening, a temperature check and answer standard COVID-19 screening questions when entering the County Administration Center.
Wait outside the building if the maximum capacity is reached inside the Board Chamber and overflow rooms until space becomes available
Watch the Meeting
There are many ways to watch the Board of Supervisors meetings:
Watch on Cable TV: Watch the meeting on these TV channels: Cox Ch. 24 (South) or Ch. 19 (North); Spectrum Ch. 24 or 85; or through the County News Center. Currently, the County News Channel is not available via AT&T U-Verse.
Watch Online: Watch the live stream online. The County will be broadcasting the meeting through a variety of services. Note that there may be a 45-second or more delay when viewing the broadcast online, depending on the service and your Internet connection.
Listen Via Phone: Listen to the live meeting by dialing (619) 531-4716 while business is being conducted. This is a live, listen-only feed.